The Love Me Nots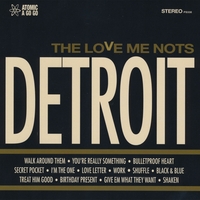 Detroit
Atomic A Go Go Records
The hottest/coolest thing to come out of Arizona have returned with their second album wrought in spy/surf mayhem. Whereas their debut
In Black & White
packed punches in every song,
Detroit
pummels. Nicole's vocals are stronger, more seductive, louder, and more soulful, while Michael Johny's guitar is heavier, thicker, and louder. As if the two leaders aren't enough to batter you with fuzzed out surf and farfisa for nearly 40 minutes, bassist Christina Nunez and drummer Jay Lien equally join the melee with every thud and pound, although both left recently and were replaced by Kyle Rose Stokes and Vince Ramirez.
In Black & White
was a flawless debut that left many record labels pounding at their door. Alas,
The Love Me Nots
were left unimpressed with the possibility of major label exposure and losing certain rights as a compromise. As a result, the band kept their DIY attitude and outdid themselves.
Detroit
is the second album released on their own label,
Atomic A Go Go
records. This is an album that labels wish their artists could do.
Ghetto Recorders guru Jim Diamond turned the knobs again, but this time, every thing that was so great about
In Black & White
was turned up to 11! An Arizona band turned into natives of The Motor City, definitely.
Detroit
is heavier in volume and power. Farfisa/lead vocal Nicole Laurenne's voice is enough to leave everyone bowing their heads in awe on the opening track "Walk Around Them," but the keys blast in like ice against Michael Johnny's wailing guitar, but the chords have an echo that fills up every corner of a room. There's also a cool pre-solo of melodic bass fuzz that one can't help but nod their head in approval. "Bulletproof Heart" and "Secret Pocket" has almost Arabian guitar intros and later solos that is nothing less than authentic if one considers that surf guitar legend
Dick Dale
is of Lebanese descent and used Arabian melodies as a major influence in his work. Jay's drumming on it is tough, primal, and to the point, but Nicole's almost hypnotic keys on "Secret Pocket" have a swirling, almost mesmerizing effect that could make anyone swoon if it weren't for the fact that all the other instrumental and vocal parts demand notice. "I'm The One" is almost a 'traditional' garage rock song with it's simple beat, but the keys are eerie enough to throw one into a zombie movie. "Love Letter" is almost a refrain from the previous tracks in it's simpler delivery. Whereas the songs before it have an almost punk assault in delivery, "Love Letter" is a freakbeat dance song that can fill the floor. "Work" is a pure r&b foray that showcases a fuller range of Nicole's vocal prowess in that it's smooth and seductive, but the added tambourine rhythm is a great surprise as well as the certainly Motown style background vocals.
Detroit
is undeniable fun that is far better in its intensity and simplicity than most of what's out there. The 60's surf, garage, spy movie and fuzz/farfisa are all there, one can instantly pick out the influences, but the delivery is punk in volume and one can only slightly pick out influences to say what they sound like. For example, "Shuffle" has loud, dark surf guitar and the beat that could have been at home on
Hulabaloo, Shindig
, or
Beat Club
, but it doesn't really sound like anyone. An exception is the commanding
Black & Blue
that hints at
The Sonics
"Have Love, Will Travel." Then again, that song is such a staple that an awful lot of great bands have a few songs in their repertoire that hearkens back to it. Although
Birthday Present
has the same beat of
In Black & White
's "Move In Tight," the Farfisa is nice and muddier than the other tracks, Nicole's voice into full command as well as the others. "Shaken" is a slower, subtle but still intense, and desolate lament that's a perfect ending for the album.
Unfortunately, the prophecy that I made in my review of
In Black & White
that
The Love Me Nots
would not be playing in small places for much longer has not come true. The music business has yet to adjust and profit from the digital age. Thus, bands make most of their money via publishing and getting their music on TV, film, and commercials. Naturally, record labels are demanding larger chunks of those rights. It's really sad to think that great music is a soundtrack to sell cars, computers, cheesy teenage dramas, and just about everything else. On the other hand, bands like
The Love Me Nots
prove that great rock 'n' roll that's raw, energetic, and fun is out there for those who want it. Even better is the fact that without the major recognition,
The Love Me Nots
hold their listeners and viewers at live shows in the palms of their hands with their sound and presence. In conclusion, the labels can have whoever they can sign and make money off of someone else's hard work.
The Love Me Nots
belong to themselves and to us, the music fans. Their choice to go it alone made no difference.
Detroit
is not only great, but it's proof that great bands can make better music without a label bankrolling the recording then taking most of the royalties as payback. As a development and natural progression from
In Black & White
,
The Love Me Nots
take their distinct musical parts and have combined them skillfully and with louder volume to the point where
Detroit
lives up to
The Love Me Nots
new symbol, a shiny, blinding silver go go boot. It's not just a perfect illustration of where they've come, but an even better middle finger of defiance to the music industry by holding that shiny boot up as if to say "We did it without you and its better than almost anything you got!" Fuzz on!
"Walk Around Them"
With many indie acts, you're not going to find them in your neighborhood corporate record store. For those of you who want instant gratification,
Detroit
is available on iTunes. If you're of the wisdom that great music is art and art has value, then buy the CD. Yours truly has already done the digging. The most direct route is from the band themselves at
Their official online store
. Another cool place to get
Detroit
is from
Get Hip
. They're not only a label that's home to great acts like
The Cynics
,
The Breakup Society
, and
The Ugly Beats
, but they're also a distribution company that exclusively carries some of the best garage rock out there from acts like
The Stems
,
Paul Collins Beat
, and
The Black Hollies
, just to name a few. They're a premier, independent American garage rock label that has a lot of great music and some really great people to get it from. Not only do they love their rock 'n' roll and they show it, they also have a special affection for vinyl and those that like it. Besides, they're really cool people and they'll get your order out fast.
NOTE: There's an upcoming review of the original Arizona Knights of Fuzz Legends
The Marshmallow Overcoat
and their new release
The Light Show
coming up soon, as well as heavy Rickenbacker psych rockers
The Quarter After
's new release
Changes Near
. Subscribe to the blog if you want to get notifications when new reviews are posted.
Tourdates:
Upcoming Shows
Sep 11 2008 8:00P
SPIKE'S BAR Rosemead, California
Sep 12 2008 8:00P
ANNIE'S SOCIAL CLUB San Francisco, California
Sep 13 2008 10:00P
BAR PINK ELEPHANT San Diego, California
Sep 14 2008 12:00P
LIVE ON KUCI Irvine, California
Sep 19 2008 8:00P
SEPT 19-21 VIDEO SHOOT Phoeniz, Arizona
Sep 27 2008 10:00P
THE LOST LEAF Phoenix, Arizona
Oct 9 2008 10:00P
THE WILD BUFFALO Bellingham, Washington
Oct 10 2008 10:00P
STUDIO 66 @ LO-FI GALLERY Seattle, Washington
Oct 11 2008 10:00P
LIVE ON KEXP Seattle, Washington
Oct 24 2008 10:00P
THE JUKE JOINT Anaheim, California
Oct 25 2008 10:00P
CLUB REVOLVER @ ROBERTO'S Los Angeles, California
Nov 21 2008 10:00P
DEVIL'S ON MY SIDE@YUCCA TAP ROOM Tempe, Arizona
Dec 20 2008 8:00A
LIVE ON KUPD Phoenix, Arizona
Feb 7 2009 10:00P
LAS VEGAS SHAKEDOWN Las Vegas, Nevada
Mar 18 2009 9:00P
SXSW March 18-22 Austin, Texas
Mar 20 2009 9:00P
VEGAS SCOOTER RALLY 2009 Las Vegas, Nevada
Apr 15 2009 8:00P
European Tour TBA April 15-26 TBA