The Paisley Umbrella's Top Ten Albums of 2008,
Out of nearly 90 reviews this year, here's my top 10. I thoroughly enjoyed listening and writing about everyone, but a whole list would be a little too much. Enjoy.
The Stems
Heads Up!
Shock Records
Available in the US and Canada through
Get Hip Distribution
The Stems
made some great neo garage music in the mid '80s and then broke up to form other bands such as
The Someloves, Chevelles, DM3
, and a few others.
Heads up!
finds
Dom Mariani, Richard Lane, Julian Matthews,
, and
Dave Shaw
doing something that's brillaint and seems effortless for them. Guitar driven, melodic powerpop, but much edgier. For some,
Heads Up!
is a reminder of how much we missed. For others, an introduction to the incredible talents of
Dom
and
Richard
. Seeing them live and getting a chance to meet them at South By Southwest this year was a life changing event. For many of you who were lucky enough to see them or at least, heard them for the first time this year, you might feel the same.
Go Here
for a full review of
Heads Up!
The Contrast
Perfect Disguise: Introducing The Contrast
Wicked Cool Records
Middleborough's
The Contrast
occupy their own space. It's hard to say what they sound like. One hears traces of early
REM, Tom Petty
, and
Paul Weller
with their six-string Rickenbacker sound which is so central to the music, but the song timing is odd at times (especially evident on previous releases like
Forget To Tell The Time
, the song structures different, and on top of that, it's highly polished powerpop. The result is that
The Contrast
are incredibly distinctive and don't really "sound" like anyone else, but the music remains catchy and accessible.
The Contrast
is well off the beaten path. Read the original review of
Perfect Disguise
here
.
John Doe
A Year In The Wilderness
Yep Roc Records
I couldn't figure out why I loved this so much. This one really gets a hold of you and pulls you in. It works as a whole piece of work.
John Doe
is simply incredible, but his history sets the backdrop for his music: L.A. Punk, American music, incredible songwriting. "Hotel Ghost" is haunting, "Golden State" is strangely uplifting but not optimistic, "The Meanest Man In The World" is a pure illustration, "Darling Underdog", which had lyrics that
Exene
contributed, is just beautiful.
A Year In The Wilderness
rocks with pure heart and soul. Amazing.
The Fleshtones
Take A Good Look
Yep Roc Records
2008 was the year of
The Fleshtones
. These guys invented
Super Rock
, a genre of loud, fun rock 'n' roll that's takes roots from just about every influential three chord rock band and made it fun again. Their songs range from loud and fun ("Shiny Hiney") to a deep
Kinks
feel ("This Time Josephine") and still retain a sound and feel that's pure
Fleshtones
. They toured endlessly to support
Take A Good Look
. Hopefully, most of you finally did. For a full review of
Take A Good Look
,
Go Here
.
The Shake
Tripping The Whole Colorful World
Flor Y Nata
Available in the US and Canada through
Rainbow Quartz Records
Gijon neo garage rockers
The Shake
are relatively unknown compared to other '60s inspired bands from Spain.
Tripping The Whole Colorful World
is a true gem of psychedelic '60s pop that's both melodic and basic at the same time. One hears a lot of
Beatles For Sale
on the album, but with stronger hints of psychedelic and a heavy soul base. This is a
Wonderful find
for anyone who loves '60s rock/soul and early psych. At the present time, their new album is complete but release is delayed for unknown reasons. Once you hear
Tripping The Whole Colorful World
, it will open up a new world. Let's hope we hear more from
The Shake
in 2009.
Go here
for their full review.
The Love Me Nots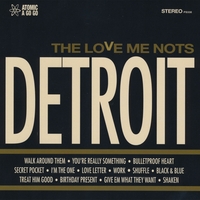 Detroit
Atomic A Go Go Records
Also
Available in the US and Canada through
Get Hip Distribution
. Also available in
"Farfisa Cream" Vinyl
(inquire about availability before ordering)
The Love Me Nots
are an ultimate combination of mod, surf, and cool. It's loud!
Michael Johny Walker
wails some seriously loud surf guitar,
Nicole Laurienne
packs a vocal dominance that will not only force people to listen, but will make you hang on her every word. Current band members
Kyle Rose Stokes
on bass and
Vince Ramirez
(former members
Christina Nunez
on bass and
Jay Lien
on drumes for the album recording) on drums round out a top notch combo that's perfect fuzz and farfisa go go, but much louder and tighter than expected.
Jim Diamond
at Detroit's legendary
Ghetto Recorders
puts in the knob duties that round out
Detroit
into an ultimate mod garage tome that's pure mod/surf/garage perfection. Additionally, they've turned down offers from popular garage rock labels in favor of controlling their own destiny, but that's no surprise once one hears them. They're too good to be held down. Check out the full review of
Detroit
here
.
Los Peyotes
Cavernicola
No Fun Records
as well as
Get Hip Distribution
Listening to
Los Peyotes
is as much fun as once could possibly have listenint to music. Although originally released in 2005,
Cavernicola
is now available for the first time in the US. Not only that, but it's available in vinyl and it's worth it just for the vintage type album cover.
Los Peyotes
are loud cavemen that wield surfy, loud garage rock in all its primitive glory. Not to be passed up.
Paul Collins Beat
Ribbon of Gold
RockIndiana
Get Hip Recordings
in the US and Canada
Great, simple, catchy songs that have their own voice and are instantly likeable created by a powerpop icon. Plenty of hints at brilliance from the guy who wrote "Hanging ON The Telephone" on "I Still Want You" and "She Doesn't Want To Hang Around With You", slices of jingle jangle Americana on the title track, and much more. There's no such thing as powerpop without
Paul Collins Beat
Go Here
for the full CD review.
Thee Vicars
Back On The Streets
Dirty Water Records
Available US and Canada through
Get Hip Distribution
Thee Vicars
are the undeniable truth of the statemaent "Look what you've created!" They're as much the bastard children of
Pete Shelley
as they are of
Iggy Pop
,
Billy Childish
, and '60s garage rock bands like
The Chocolate Watchband
. Heavy garage rock played through the brains of teenagers bent on playing loud and snotty.
Thee Vicars
will take over the world. Read all about them
here
.
The Ugly Beats
Take A Stand With
Get Hip Recordings
Austin's
The Ugly Beats
create an infectious mix of up and midtempo hits that lie somewhere inbetween the garage/powerpop forebearing sounds of the legendary
Easybeats
, some vintage surf, and the more subdued, melodic sounds of
The Byrds
and L.A. folk rock heroes
Love
.
Take A Stand With
is as close as one might get to real '60s rock and this band has made its mark on great rock 'n' roll for years to come.
Go Here
to meet
Jason, Joe, Jeanine, Jake, and JSteve
. With the great music in their veins and pouring out of them, it's no wonder that they're the darlings of
Get Hip Recordings
.
NOTE: Narrowing nearly 90 reviews down to ten was not an easy task. There are so many of you out there that I had the chance to listen to and write about. For those of you not on the list, I can't thank you enough for contributing, but if I name one, I'd have to name everyone and that's a very, very long list! For the most part, I've lived up to my goals. However, there are a few of you out there who I owe reviews to for this year, such as
The Hosts
,
The Jungle Rockers
,
The Luxury Sweets
, and a handful of others. I want to thank those of you not reviewed yet for your patience and understanding. I've written at least 2 reviews per week since I started reviewing in February. It's a hobby and I love doing it, but for a host of different reasons, not everyone got their say yet. This is it for 2008, but I'll have a month or so to catch up with everyone listed as well as some material from great artists that I've recently received. Starting in mid-February, the focus will shift to bands playing the 2009 South by Southwest Festival. The number of reviews I've done combined with those yet to be done is proof of what I've said all along: The Best rock 'n' roll is being made today!
The Paisley Umbrella
is here not only to spread the word about it, but to catch as many bands as possible and write about them since our information age produces such an overload that a lot of great things fall outside of people's radars. I hope many of you have discovered not only great new bands, but older ones that you might not have had a good listening to the first time around. I love writing about great rock 'n' roll and am lucky to have a growing number of readers and friends. I'm taking a well earned break until January. May you all have a Paisley/Psychedelic/Garage/Rock 'n' Roll, but most of all, a very Happy New Year!
Cheers and Thank You,
Michael from The Paisley Umbrella