The Love Me Nots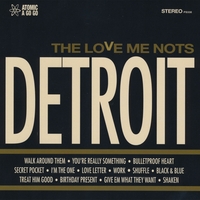 Detroit
Atomic A Go Go Records
The hottest/coolest thing to come out of Arizona have returned with their second album wrought in spy/surf mayhem. Whereas their debut
In Black & White
packed punches in every song,
Detroit
pummels. Nicole's vocals are stronger, more seductive, louder, and more soulful, while Michael Johny's guitar is heavier, thicker, and louder. As if the two leaders aren't enough to batter you with fuzzed out surf and farfisa for nearly 40 minutes, bassist Christina Nunez and drummer Jay Lien equally join the melee with every thud and pound, although both left recently and were replaced by Kyle Rose Stokes and Vince Ramirez.
In Black & White
was a flawless debut that left many record labels pounding at their door. Alas,
The Love Me Nots
were left unimpressed with the possibility of major label exposure and losing certain rights as a compromise. As a result, the band kept their DIY attitude and outdid themselves.
Detroit
is the second album released on their own label,
Atomic A Go Go
records. This is an album that labels wish their artists could do.
Ghetto Recorders guru Jim Diamond turned the knobs again, but this time, every thing that was so great about
In Black & White
was turned up to 11! An Arizona band turned into natives of The Motor City, definitely.
Detroit
is heavier in volume and power. Farfisa/lead vocal Nicole Laurenne's voice is enough to leave everyone bowing their heads in awe on the opening track "Walk Around Them," but the keys blast in like ice against Michael Johnny's wailing guitar, but the chords have an echo that fills up every corner of a room. There's also a cool pre-solo of melodic bass fuzz that one can't help but nod their head in approval. "Bulletproof Heart" and "Secret Pocket" has almost Arabian guitar intros and later solos that is nothing less than authentic if one considers that surf guitar legend
Dick Dale
is of Lebanese descent and used Arabian melodies as a major influence in his work. Jay's drumming on it is tough, primal, and to the point, but Nicole's almost hypnotic keys on "Secret Pocket" have a swirling, almost mesmerizing effect that could make anyone swoon if it weren't for the fact that all the other instrumental and vocal parts demand notice. "I'm The One" is almost a 'traditional' garage rock song with it's simple beat, but the keys are eerie enough to throw one into a zombie movie. "Love Letter" is almost a refrain from the previous tracks in it's simpler delivery. Whereas the songs before it have an almost punk assault in delivery, "Love Letter" is a freakbeat dance song that can fill the floor. "Work" is a pure r&b foray that showcases a fuller range of Nicole's vocal prowess in that it's smooth and seductive, but the added tambourine rhythm is a great surprise as well as the certainly Motown style background vocals.
Detroit
is undeniable fun that is far better in its intensity and simplicity than most of what's out there. The 60's surf, garage, spy movie and fuzz/farfisa are all there, one can instantly pick out the influences, but the delivery is punk in volume and one can only slightly pick out influences to say what they sound like. For example, "Shuffle" has loud, dark surf guitar and the beat that could have been at home on
Hulabaloo, Shindig
, or
Beat Club
, but it doesn't really sound like anyone. An exception is the commanding
Black & Blue
that hints at
The Sonics
"Have Love, Will Travel." Then again, that song is such a staple that an awful lot of great bands have a few songs in their repertoire that hearkens back to it. Although
Birthday Present
has the same beat of
In Black & White
's "Move In Tight," the Farfisa is nice and muddier than the other tracks, Nicole's voice into full command as well as the others. "Shaken" is a slower, subtle but still intense, and desolate lament that's a perfect ending for the album.
SXSW Appearances
Mar 21 2009 6:00p.m. PAISLEY UMBRELLA SHOWCASE @ ROCKIN TOMATO
Mar 21 2009 9:00p.m. OFFICIAL SHOWCASE @ SMOKIN MUSIC
Mar 22 2009 1:00p.m. CHEAPO RECORDS IN-STORE Austin, Texas
"Work"