Mondo Topless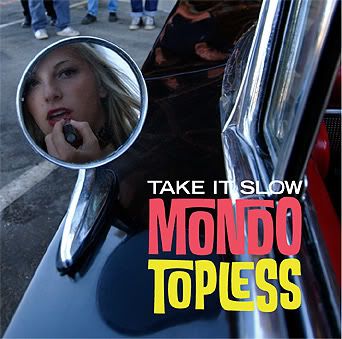 Take It Slow
Get Hip Recordings
Sometimes, music should be a little bit weird and perverse. A lot of garage rock has some basis in '60s horror and sexpoloitation films. The music itself somehow builds on the same themes in those films- a little humor, cheesiness, some shock, and just a little bit of sleaze to be a little weird, but not disturbing. Philadelphia's
Mondo Topless
is the modern, enduring version of that. Debuting in Halloween of 1992, this collection of loud misfits has defied expectations by continuing to pump out great, fun rock 'n' roll despite continuous member changes and a somewhat cheesy but fun sound of the Vox Continental organ, the most noticeable instrument used by founder/vocal/keboardist, Sam Steinig. Although the band's latest release,
Take It Slow
, came out in September of 2006, the CD/LP and the band, for that matter, remain known only in small circles for their own style of '60s garage meets bar band raunchiness. So to many,
Take It Slow
is still new to the point where it's still getting reviewed as "new."
"Take It Slow" is an anything but slow; upbeat, organ driven number that sounds like a paean to the great theme of cars and girls, but with a great, beat stopping, voice only chorus with the song's title. For being so catchy, the song is a little ferocious. Kris Alutius's guitar is simulataneous with the organ, but then goes off into some incredible Dick Dale inspired surf guitar.
Mondo Topless
are very honest, even in a way that everyone doesn't always want to admit. "Beer" doesn't leave much more to say than the title. We like it, we want it, we're always happy when it's on someone else's tab. Come to think of it, Sam screming "I'm thirsty! I want a beer! give me a beer!" accompanied by Tom Connors' wind 'em up drumroll and some of Kris's screatching guitar soloing will and probably has achieved the band's desired goal, but is such a fun, upbeat song that there might have been a race from the bar back to the band floor by anyone who comes out to see them in order to fulfill their wishes, but still be able to participate in the sing a long. The band follows up with the inevitable consequence of that call in "Just One Thrill" where the that reflects that emotional intensity brought upon by all that "Beer" to get lucky with the girlfriend/wife staying at home, even if it means giving up those great nights of rocking at the bar.
A great standout on
Take It Slow
is the cover of
Paul Revere and the Raiders
classic "Louise," which keeps the spirit and beat of the band and their Northwestern garage rock origins intact, but brings it into today with Scott Rodgers' complex but groovy bass, changing tempos, some great refrains for handclapping. The other cover on
Take It Slow
,
Solomon Burke's
"Stupidity", is just a fun dirge of silliness and rebellion with a basic 3 chord verses that sounds like it was recorded at a bar, complete with the appropriate, out of sync laughs, yeahs, and howls. The liner notes for the song, as well as all the songs on the CD/LP are a fun read and necessary supplement, so purchasing
Take It Slow
is best recommended on CD or LP in favor of downloading.
Mondo Topless
is a gritty, raunchy band full of fun, adolescent angst, beer, and sexual frustration. Those are themes we all have and in many cases, the youthfulness in us still identifies with those ideas, so the themes are ageless. The rock 'n' roll delivery is quite different. The "cheesy" organ, of which is even noted by the band on their own page, combined with a lot of guitar that goes beyond the standard mostly chord structure of basic rock songs creates a great sound. Finally, the all together "feeling" of
Take It Slow
is a party for the ultimate nerds: music lovers like most of us. The straight on garage rock influences of
The Sonics, The Wailers
, and others mixed in with the the themes and the angst in Sam Steinig's gravelly voice are throughout, but all come together on "It Hurts Me," where he sings about having to see his ex or obsession with and in love with another guy, which is something we've all felt, but you get the feeling that it's from the perspective of the jilted high school nerd who's singing his heart out as an outlet for his deep angst and playing a keyboard. It doesn't get nerdier than that! Except now, the short kid with glasses that everyone taunted now plays in a rock and roll band and gets the girls. We should all thank
Mondo Topless
for telling our story on
Take It Slow
. even if the hot rod references and "nerd gets the all the girls" part isn't really true all of the time.
Mondo Topless at Sala Universal (Cedeira, Spain)